Pinnacle Bank Arena Seating Chart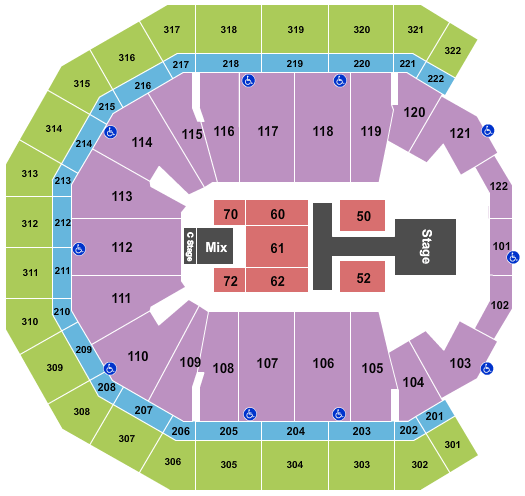 Seating
The Pinnacle Bank Arena is one of the largest arena's in the state with a capacity of 15,500 people. Regardless of the event you're going to see, you can rest assured that the atmosphere which is created from this incredible venue will be nothing short of breathtaking.
Executive Suites
The focal point of building this stunning venue was to ensure that there was a choice of founders and executive suites available for a VIP experience at each and every event. With 36 suites and 20 loge boxes spread around the arena, if you're looking for VIP then you won't be short for choice.

Make your trip to the Pinnacle Bank Arena unforgettable and select a VIP option.
Accessibility
The Pinnacle Bank Arena is fully accessible for wheelchair users, as well as having an entire section all the way around the arena which is visible on the seating chart.
The car parking areas are also fully wheelchair accessible (including the drop-off areas), meaning that your visit to this incredible venue will be completely stress-free. There is also a wheelchair service for guests who require assistance to and from their seats.
For select shows, phonic devices are available to assist guests with hearing impairments. They can be checked out free of charge, but require an ID to be left until the return of the equipment.
The Pinnacle Bank Arena is excited to offer signed performances for their hearing-impaired guests, although these are not guaranteed for every event.
NOTE: Different events may require different seating arrangements. When selecting your tickets double check the seating chart for the specific event layout.
You can reserve your ticket today and secure the best seats. Check out the Pinnacle Bank Arena schedule to see all upcoming events.
For all ticket policies and authenticity guarantees see the ticket information page.